You are here
Back to top
The Guncle (Hardcover)
How Online Inventory and Ordering Works
Our online order system indicates stock that we have access to and which we can typically have in-store in 4 - 7 days, it DOES NOT always reflect what we have in the store at any given moment. Feel free to call or text us to check current in-store stock. We are currently only offering IN STORE PICK UP for orders placed online. If you are wanting an order shipped, please contact us directly at 303-856-8181 or hello@suddenfictionbooks.com and we are happy to arrange!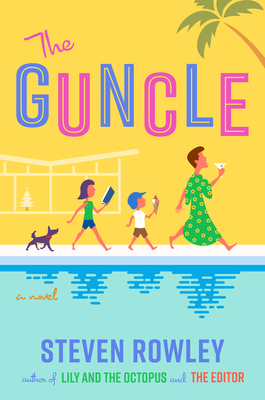 List Price: $27.00
Our Price: $25.65
(Save: $1.35 5%)
Usually Ships in 1-5 Days
Description
---
From the bestselling author of Lily and the Octopus and The Editor comes a warm and deeply funny novel about a once-famous gay sitcom star whose unexpected family tragedy leaves him with his niece and nephew for the summer.

Patrick, or Gay Uncle Patrick (GUP, for short), has always loved his niece, Maisie, and nephew, Grant. That is, he loves spending time with them when they come out to Palm Springs for weeklong visits, or when he heads home to Connecticut for the holidays. But in terms of caretaking and relating to two children, no matter how adorable, Patrick is, honestly, overwhelmed.

So when tragedy strikes and Maisie and Grant lose their mother and Patrick's brother has a health crisis of his own, Patrick finds himself suddenly taking on the role of primary guardian. Despite having a set of "Guncle Rules" ready to go, Patrick has no idea what to expect, having spent years barely holding on after the loss of his great love, a somewhat-stalled acting career, and a lifestyle not-so-suited to a six- and a nine-year-old. Quickly realizing that parenting--even if temporary--isn't solved with treats and jokes, Patrick's eyes are opened to a new sense of responsibility, and the realization that, sometimes, even being larger than life means you're unfailingly human.

With the humor and heart we've come to expect from bestselling author Steven Rowley, The Guncle is a moving tribute to the power of love, patience, and family in even the most trying of times.
About the Author
---
Steven Rowley is the author of The Editor and the national bestseller Lily and the Octopus, which has been translated into twenty languages. He has worked as a freelance writer, newspaper columnist, and screenwriter. Originally from Portland, Maine, Rowley is a graduate of Emerson College. He lives in Palm Springs, California.
Praise For…
---
One of:
Oprah Daily's Best Beach Reads to Help You Escape
Washington Post's Feel-Good Books to Brighten Your Summer
CBS's 12 Perfect Summer Beach Reads for 2021
Vogue's 12 Beach Reads to Get Lost in This Summer
Real Simple's Blockbuster Beach Reads
Country Living's 32 Can't-Miss Beach Reads for This Summer
Southern Living's Beach Reads Perfect for Summer 2021
Bustle's 40 Best New Books to Read This May 
E! News's 18 Best Books to Check Out in May
PopSugar's 45 Best Summer Reads of 2021
USA Today's 5 Books Not To Miss
CNN's 20 Books That Are Essential Reading this Pride Month
Reader's Digest's 75 Best Summer Reads of All Time
Parade's 15 New LGBTQ+ Books to Pick Up This Summer
New York Post's 30 Best Books On Our Summer Reading List
iHeart Radio's 15 Best Beach Reads for Summer 2021
Christian Science Monitor's Best Books of May 
PureWow's 10 Books We Can't Wait to Read in May
Travel & Leisure's Most Anticipated Books of Summer
Women.com's Most Anticipated Summer Beach Reads
SheKnows's 20 New Books You Need to Add to Your Summer Reading List
Scary Mommy's Most Anticipated Books of Summer
Frolic's 25 Best Books of Spring 2021
Brit + Co's 17 Beach Reads That Make the Perfect Summer Escape
NewNowNext's 17 Exciting Queer Books to Savor This Summer
Bibliolifestyle's Quintessential Summer 2021 Beach Reads
LAMBDA Literary's Most Anticipated LGBTQ Literature of May
Washington Post's 12 Titles to Get You to the End of Summer

"Rowley delivers the perfect summer read: The Guncle is relentlessly witty, sweet and heartbreaking." –Elin Hilderbrand

"Wise and hilarious." –People

"A laugh-out-loud heartwarmer." –Oprah Daily

"Rowley's depth and humor will warm even the most jaded hearts." –Washington Post

"A formerly famous gay sitcom star is suddenly tasked with raising his niece and nephew in this sweet, saucy novel." –Vogue

"Deeply entertaining." –Real Simple

"Gay Uncle Patrick is given custody of his young niece and nephew for the summer, and struggles to integrate his lifestyle as an actor with his new charges." –Entertainment Weekly

"The author of Lily and The Octopus and The Editor delivers arguably his funniest and most poignant novel yet." –E! News

"[A] brilliant tale of loss and love." –GMA.com

"[A] heartwarming, hilarious tale of family ties that even the deepest grief can't shake." –Southern Living

"A moving tribute to love, patience, and family in even the most trying of times." –Country Living

"Rowley's third book explores [the] bond between Guncles and their nieces (and nephews) with astute, heartwarming observations, while illustrating how the term 'parent' expands beyond traditional mom and dad roles." —PrideSource

"A big-hearted, laugh-out-loud-funny kind of book that's sure to stay with you long after you turn the final page." –PopSugar

"Beach read alert." –PureWow
 
"[A] funny and heartwarming beach read." –CNN
 
"[A] moving, feel-good summer escape." –Newsweek

"Cue some family growing pains and humorous antics, and you get this heartwarming novel you'll devour in a flash." –theSkimm

"[A] feel-good story, perfect for summer." –AARP

"Often hilarious, sometimes devastating, and genuinely touching." –New York Daily News

"In his heartwarming, humorous new novel, Steven Rowley shows readers the true meaning of family, reminding us that everyone—even parents—is only human." –Travel & Leisure

"A heartwarming story...Quirky and fun...Light and sassy and warm—like an Aperol spritz atop a pink flamingo floatie. The perfect book for the upcoming summer season." –KMUW-NPR 

"Rowley hits the sweet spot between hilarity and heart in this endearing charmer." –Christian Science Monitor

"As hysterically funny as it is profound, The Guncle is the perfect summer read for anyone who's looking for a good time with amazing characters without forfeiting deep and meaningful discussions that will feel like a balm to the soul for anyone who's ever lost someone." –The Nerd Daily

"[A] heartwarming story." –WBUR
 
"A warm and deeply funny novel…With the humor and heart we've come to expect from bestselling author Steven Rowley, The Guncle is a moving tribute to the power of love, patience, and family in even the most trying of times." –Frolic

"Rowley uses the juxtaposition of lifestyles and situations for an enormous comic harvest without once forgetting the sorrow and tragedy that have resulted in the situation. The characterizations are rich and wonderful, and Rowley writes with a tenderness, affection and empathy about life, sorry and family that's the stuff of pure heart." –The Day (CT) 

"A sweet story of family, with plenty of laughs and even a few tears." –Parkersburg News & Sentinel

"Equal amounts of heartache and witty bon mots." –Palm Springs Life
 
"One of the hottest beach reads of the year." –SheReads

"The Palm Springs-set tale promises plenty of kaftans as well as family drama." –NewNowNext
 
"This hilarious and heartfelt story will make you laugh, cry, and want to be a better person." –BookRiot
 
"Hilarious and heartwarming…Auntie Mame-like laughs, lessons and hijinks ensue as Patrick—a once-famous gay sitcom star—deals with a midlife crisis while launching a second act." –Boston Spirit

"Warm and funny…[Rowley] continues bringing the hits with this feel-good read that still has depth and meaning." –Scary Mommy

"The Guncle is a story that deftly balances humor with deep sentimentality. Perfectly folded into the lines of Rowley's narrative is some of the wittiest banter mixed in with some of life's most philosophical lessons….Rowley creates a wholesome narrative that digs deep beyond the surface, past the drollery, pulling at heartstrings and keeping the reader hooked with his tactful intuition for a beautifully balanced dramedy." –Paperback Paris

"The Guncle is a love letter to the gay uncles (guncles) and their love for their nieces and nephews and will keep the reader entertained from beginning to end. . . .Rowley brilliantly taps into the loss of a loved one and the grieving that comes after." –Instinct Magazine

"A heartwarming and delightful story of love, loss, and the bonds of family." –BookBub

"Heartwarming, hilarious…Rowley finds humor and poignancy in the snappy narrative….Readers will find this delightful and illuminating." –Publishers Weekly
 
"Patrick is a memorable character, and it's genuinely thrilling to read screenwriter-turned-novelist Rowley's take on the mechanics of stardom....There's true insight here into the psychology of gay men, Hollywood, and parenting. A novel with some real depth beneath all its witty froth." –Kirkus Reviews

"Influenced by comic dialogue that would make Neil Simon jealous, the novel's serious undercurrent of loss gives way, in the end, to a warmth that will make readers smile....A funny, gentle tale of family and friends, and a salve for the wounds they often cause." –Library Journal
 
"Rowley's sensitive and witty exploration of grief and healing soothes with a delectable lightness and cunning charm." –Booklist

"Never going too dark, The Guncle is a sweet family story that offers an unexpected yet inevitable ending." –BookPage

"A joyous Auntie Mame spritz! A reading pleasure; pour yourself a tall glass and enjoy, preferably poolside. You deserve it!" –Andrew Sean Greer, winner of the 2018 Pulitzer Prize for Less

"Patrick, the hero of Steven Rowley's effervescent, utterly charming, and affecting novel, is the dearest friend you haven't met yet. You'll root for his two adorable charges as they navigate a terrible loss, and for Patrick's own heart to make a long-overdue comeback. A cleverly subversive story about what makes a family." –Christopher Castellani, author of Leading Men

"The Guncle is super funny, charming, and tender. Love, loss, and Palm Springs are the perfect ingredients for a delightful cocktail." –Gary Janetti, author of Do You Mind If I Cancel?

"Steven Rowley has triumphed again with his new novel The Guncle, an exuberant but tender story about life, death, family, and love. Rowley's protagonist is a modern-day Auntie Mame with every bit of that unflappable flapper's sharp wit and fabulous wisdom. This book is a dazzling banquet of laughter and insight; with it Rowley has proven himself to be one of the great comic novelists of our time." –Camille Perri, author of The Assistants and When Katie Met Cassidy

"Patrick is a famous bon vivant, caftan-wearing gay uncle with a fabulous house in Palm Springs. He's an unlikely family member to help his niece and nephew work through their feelings of raw grief after their mother dies, but it turns out he's exactly who the kids need—just as he needs them to help him address his own, less recent loss. Steven Rowley's assured and moving page-turner is studded with laugh-out-loud humor and moments of profound feeling and insight. This book hit every note on my emotional register, and I savored it like an Aperol drunk poolside with friends on a hot, desert day." –Christina Clancy, author of The Second Home

"Delightful, sharp, and very funny, The Guncle is the cocktail equivalent of the fourth sip of your martini while you sit poolside at sunset. I loved lingering in this world (and loved reading the dialogue out loud). A novel as much about family and friendship as it is about style and sass, it's a divine mix of Terms of Endearment and The Birdcage." –Timothy Schaffert, author of The Perfume Thief and The Swan Gondola